"There's nothing you can do with my kitchen"
is what Clare Donohue often hears when people call her
to do something with their kitchen.
They've called the right person. – Manhattan User's Guide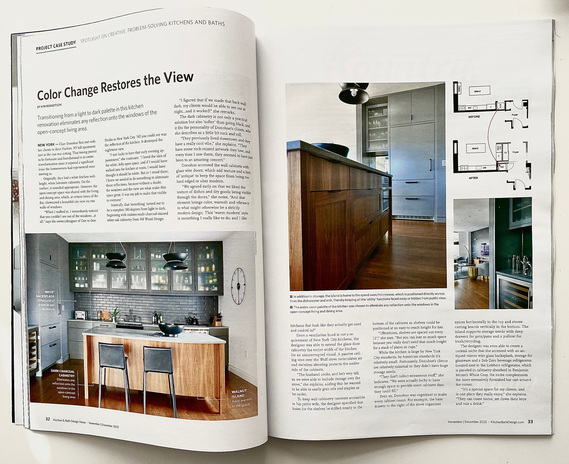 It was lucky to have that early evening appointment; if I had walked into the kitchen at noon, I would have thought it should be white. But as I stood there, I knew we needed to do something to eliminate those reflections, because without a doubt, the windows and the view are what make this space great. I figured that if we made that back wall dark, my clients would be able to see out at night…and it worked!
- KITCHEN & BATH DESIGN NEWS
Who knew 550 square feet could go so far? – Elle Decor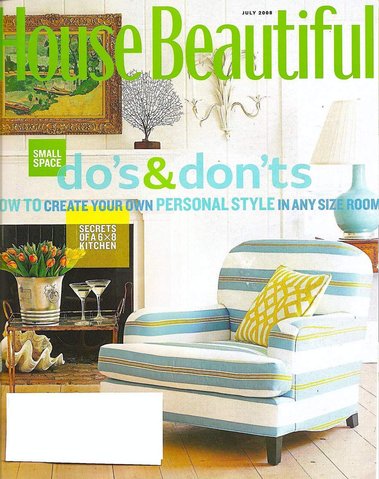 The empty-nester swapped out a big house in the burbs for a compact Manhattan apartment. "The floor plan, built-ins, and fixtures are beautiful and highly efficient. My new home ended up being exactly what I had hoped for—sophisticated, comfortable and well suited to a simpler lifestyle." – Daring Downsize
If your bathroom has a charming old cast-iron tub that's worn,
it can be reglazed to make it look new, white and clean,
for a fraction of the price of a new one. – Market Ready, NYT
To keep costs down, Ms. Donohue recommended retaining the location of the existing toilet, sink and bathtub, since rearranging the plumbing requires a more extensive renovation. Another trick is to install a pedestal sink. "The vanities that you can afford for this kind of renovation tend to look cheap, but a pedestal sink makes the room look bigger and is usually more affordable." – The New York Times
In a narrow kitchen, have as few upper cabinets as possible.
Get rid of stuff. Live only with what you love and use daily.
Think of it as a different kind of abundance. – House Beautiful
This quote from Clare Donohue in July's House Beautiful really inspired us. It's easy to get caught up with wanting more than you need (and buying things you'll never use), so even though we're always posting about steals & deals, it's nice to sit back and remember that the most peaceful places and spaces always demonstrate that less really is more. – Young House Love
"I paid for a one-hour consult; the cost was well worth it.
The designer suggested moving the refrigerator to the corner
and relocating the doorway to accommodate the fit.
That might seem obvious in retrospect, but to me it was a revelation."
– Odd Shaped Kitchen, Sweeten Stories
For New York-based designer Clare Donohue, making the most of small city spaces comes down to one, hard-and-fast rule: "Solve function first, then style the space to the client's personality." But to makeover a tiny, 7'×12' maid's room that could last one client's daughter all the way through her teenage years (and beyond), it would take some serious long-term planning: "They wanted a room that would get her through college, but could function later as a home office or guest room when she moves out." – A Tiny Maid's Room Gets a Modernist-Approved Makeover
All of Donohue's visions merge practicality with perfect form
in order to create spaces that are entirely livable. – Designers to Watch
Why we love it: White-washing is a classic technique for making a small space appear bigger, and it works great here. Even the oven and fridge are given the white treatment, creating a bright, seamless feel.
– 30 Superb Small Kitchens
Clare likes both modern and traditional interiors,
but in either style her work is warm, friendly, and welcoming.
"I believe in designing for the way people actually live, not some fantasy,
although I will always encourage clients to clean out
what is unnecessary in their lives." – Urban Seashell
If you've ever wanted to use aubergine but were kind of scared off by having a whole room of it, then kitchen cabinets are the perfect chance. This color grounds a room the same way black would, but with extra warmth and richness.I like it on base cabinets, combined with chestnut-colored wood or light uppers. – House Beautiful
I moved into a very art deco building and was thinking I'd do gray walls
but wanted a little something extra. – 14 Designers Show Their Stripes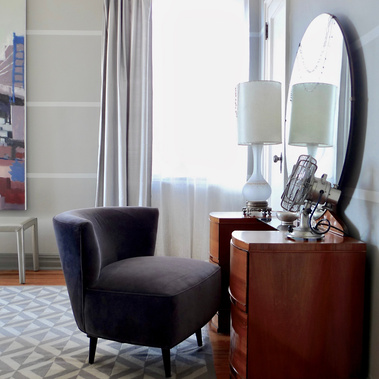 If you're on the lookout for a dressing table and crave sleek lines, the deco design of the table shown here, with its wood finish and simple design, speaks to those of us with a modern taste. – 8 Modern Dressing Tables for Unflouncy Women
Whether she's using high-end custom built or IKEA, Donohue knows how to get the perfect end result. With a style that is described as sophisticated and elegant and a keen eye for color, fans say they come back project after project for her practical, down-to-earth approach. In addition to her creative talent, sources tell us Donohue's business side is professional and organized. – The Franklin Report