BEFORE AND AFTER
Palette Cleanser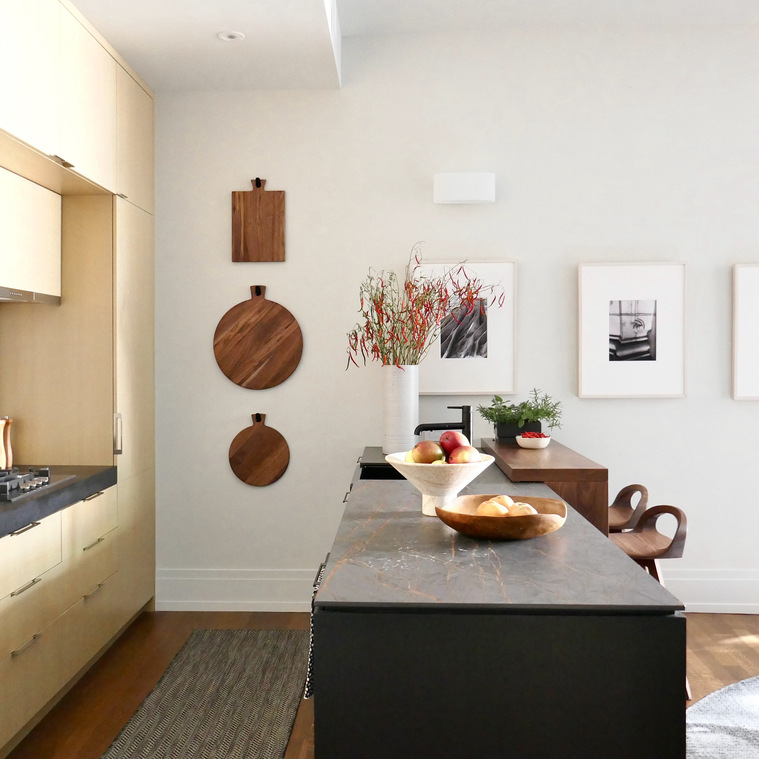 This floor-through duplex had already been renovated twice before, as the owners added adjoining spaces, but the old kitchen struggled to make peace with the enlarged footprint. Additionally, the original color palette included several splashes of orange, which distracted from the clean architecture.
Both the layout and color scheme were simplified, drawing inspiration from an existing fireplace — a handsome mix of blonde and ebony. Even the thick proportions of the mantle were repeated in the cooking niche, contrasting with the thin peninsula countertop.
The result is a cleaner, brighter space that focuses attention on the stunning architectural features, such as the steel balcony doors and the sculptural staircase.
Scroll down for the transformation.
ABOVE: The original floors had been a mix of grey tile and grey-stained wood, but over time, the polyurethane top coat had aged to an unintended olive color, making the spaces feel broken up. By replacing tiles with wood, the entire floor-through was unified by a single walnut stain.
BELOW: The calmer palette was also applied to the living room, which received a light refresh.