R E V I E W S
A small sampling of the posted reviews and thank you notes I've received over the years: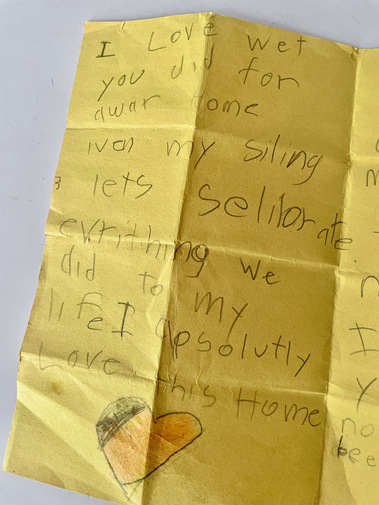 BEST. THANK YOU. EVER.
Letter from a client's 7-year-old daughter:
"I love what you did for our home, even my ceiling
[which was painted school bus yellow]
Let's celebrate everything we did, to my life.
I absolutely love this home."
"You have been tireless and great. We know that there's no way we could do this without you. I imagine that people go at these projects solo but they probably spend more than your design fees on a divorce lawyer." –Jason (a lawyer)
"We greatly appreciate all of your patience and grace under pressure. We clearly couldn't have gotten done as fast as we did without your advice and counsel. Thanks again." – Peter
"We are cooking dinner and having wine at the table and we wanted to say thank you for your designs and hard work – we are really happy!" – Lisa
"Her communication is top notch - she always keeps you informed, is proactive, and anticipates and defuses problems before they have a chance to impact the project." - Jess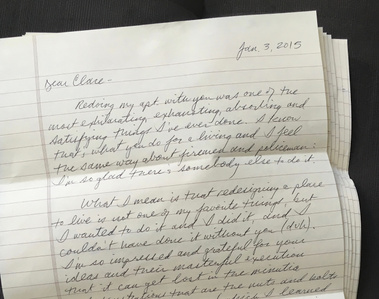 Excerpt of a 6-page letter: "I'm so impressed and grateful for your ideas and their masterful execution . . . This whole renovation thing, including having to live elsewhere, wasn't easy, but I'm so thrilled with the result that it's going to take me a few months to get used to living in splendor. It's a really exceptional job . . . . Redoing my apartment with you was one of the most exhilarating, exhausting, absorbing and satisfying things I've ever done. I know it's what you do for a living but I feel the same way about firemen and police: I'm so glad there's somebody else to do it!"
I adore Clare because one, she is lovely and two, because she is professional, personable, knowledgeable and a collaborator. We did a huge renovation in our NYC apt. Kitchen and three baths. I showed a few pictures that inspired me for each room and she immediately was keen to my aesthetics and taste. She took it, absorbed it and ran with it in all the right ways. Clare accompanied me to so many tile shops, a stone yard. Had great recommendations on appliance dealers. We worked very closely for over 6 months and was there with answers to every question we had (and there were many) including getting all the paperwork for a NYC condo.... and if you have ever renovated in an NYC apartment you will understand how tedious that can be. – JoAnn
Clare's work can only be described using superlatives. But the work itself is only half the story. Working with her to see your collective vision come to life is just as rewarding. – Christina
Nice story: I had company on Sunday and it was wonderful. The living room seating worked great. I pulled out the cart, served at the dining room table and stayed engaged in the kitchen. The general comments were how beautiful it was, and how many 'areas' there were that were inviting. It worked so well. - Wendy
"We did a two hour consult with Clare and came away with pages of ideas and suggestions. By figuring out how to use the pieces we have, get clear on what we needed to buy and how to make them all work together, our consult with Clare was a huge leap forward." – Karen + Josh
I loved everything – the texture in the accessories, the colors, everything! – Carol
"There is no way I could do something like this without you and your knowledge and experience." – Kelly
"I so loved working with Clare! I especially loved her intuitive, present ability to key in to my tastes and visions." - Mac
"Thanks for the miracles you made happen." – Aari
"I am LOVING this place. The kitchen and bath are as expected: Amazing. And the bedroom makes me relax just walking in!" – Alison
"Enjoying our Clare-infused house!" – Elizabeth
"There's nothing you can do with my kitchen," is what Clare Donohue often hears when people call her to do something with their kitchen. They've called the right person. – Manhattan User's Guide
"Her attention to detail made all the difference."
"My husband and I cannot speak highly enough about Clare Donohue & One to One Studio. Clare has impeccable taste, high quality standards, and is masterful at understanding construction and dealing with contractors and subcontractors. Clare worked with us on planning and managing a gut renovation project on a pre-war apartment. We had a lengthy co-op board approval process and issues involving the Landmarks Commission. Without Clare's help, we wouldn't have survived these processes. Clare is superb at communicating, followup, and anticipating and preventing problems. She is resourceful and has wonderful contacts for things like speciality painting. We are thrilled with our apartment and love Clare's design. We would hire Clare again in a heartbeat and recommend her, without reservation, to anyone considering any sized project." – Mary
Clare designed our kitchen and numerous built ins for our pre war apartment in Manhattan. She is an amazing professional: her plans were perfect and reflected her deep knowledge and understanding of older buildings as well as her vision and ability to turn it into actionable plans. She listened closely to us and made sure that the plans and the end product reflected our input and preferences. She was an invaluable resource to us and our contractor throughout our project. We highly recommend Clare !! – Jim and Richard
My husband and I have worked with Clare four times, and she the ONLY person whose taste we trust without question. She renovated our prewar kitchen and bathrooms in the city, carved out a new guest bathroom at our country house, and helped us choose furnishings and accessories we still love years later. She is a GENIUS with color and has the kind of calm personality that's crucial when overseeing a complicated construction and design project. Hire her! – Kathy
"Clare was a delight to work with. Before we even got together, she invited me to email her some photos of my space so she would be better prepared. She arrived on time and had lots of great ideas. Clare is very cheerful, warm and personable, and made me feel good about the choices I had already made, along with providing guidance on what I could do to elaborate on the theme within my budget. My husband and I were very happy with Clare's suggestions, and at no time did we feel she was pressuring us in any way." –Michelle
"Worth every penny!" – Rich
"She turned my tiny kitchen into a very workable space."
"When we opened the door and walked in we were ecstatic to see how the touches you added completed the look and feel of the place. You did so many wonderful things to accessorize that we couldn't take it in fast enough. Every time we turned around, we saw something new. It was a fantastic experience to see our renovation come to life in such a beautiful and dramatic way. You must really understand our moods and emotions well to have hit the feeling so perfectly." – Sue
"She immediately tuned into where we were headed and then made it much more."
Clare Donohue at 121 Studio knows what's in, what's out, what's "meh." She is a professional that is extremely easy to work with; she respects your ideas and design wishes but isn't afraid to push you to see something different. We used Clare for our first co-op renovation -- our kitchen, dining room and half-bath; then for our second renovation, our living room (including a huge built-in shelving unit), and finally our bedroom, closet and bathroom. – Marianita
This was our first Manhattan Co-op, and Clare Donohue has helped us to make it special and personal. She excels at color, bathrooms and kitchens. We hired her initially for a consult on a color palette and ended up using her for a beautiful bathroom renovation. We are thrilled with the results. Clare was responsive and professional through the whole process, knew how to listen, and we can't wait to use 121 for our kitchen - Frank
My wife and I relied on Clare's impeccable judgment throughout our home renovation project. The result was way beyond our expectations. I ended up hiring her to renovate my office too. She has an unerring eye for color -- we speak reverently of the "Clare colors" that she selected for both the home and office. They're magic. She also is a wizard with grout, paint, tile, finishes, fixtures, and a million other things. She's cool under pressure, and was a pleasure to work with. I recommend Clare highly. I can't say enough good things about her. – Steve & Bluma
"LOVE LOVE LOVE the bathroom!" – Kathy
"If you and your partner can't agree on paint colors, then definitely hire Clare!" – Brad
"The colors look fantastic. I've gotten compliments from everyone who's been through the house, from contractors to friends and family." – Christina
"The chocolate wall is insanely genius – it could not be a more perfect choice! It's all exactly the feeling that I wanted." – Susan
"Started to invite guests to my apartment and receive nothing but raves on the place. It's such a nice place to live now." – Cathy
"She deeply cares about getting great results."
"Clare is unsurpassed at choosing colors."
"Clare's design taste is impeccable, and she is very creative in offering solutions or alternatives."
"We absolutely could not have done this without Clare. "
"We are thrilled with the results, and continually receive compliments on the quality of the work."
I've worked with Clare on several projects. I've seen her with clients, contractors and subs, and she's a marvel. Her ideas are thoughtful, her instructions are clear and thorough, and her follow-through is nothing short of obsessive. – Jeffrey
Thank you very much for sharing your expertise. Your consultation was soooo very helpful. We incorporated a lot of your ideas into the new kitchen design. – Ellen
"I saw the before-and-after video for the first time and it made me cry. Thank you so much for being you! For understanding us so well and being part of our lives." – Agnes
I received a lot of useful information and ideas during my 1-hour consultation with 121 Studio. After the meeting, I had the confidence to move forward with my first renovation project. – Sandy
"The apartment is beautiful and continues to get rave reviews." – Pam